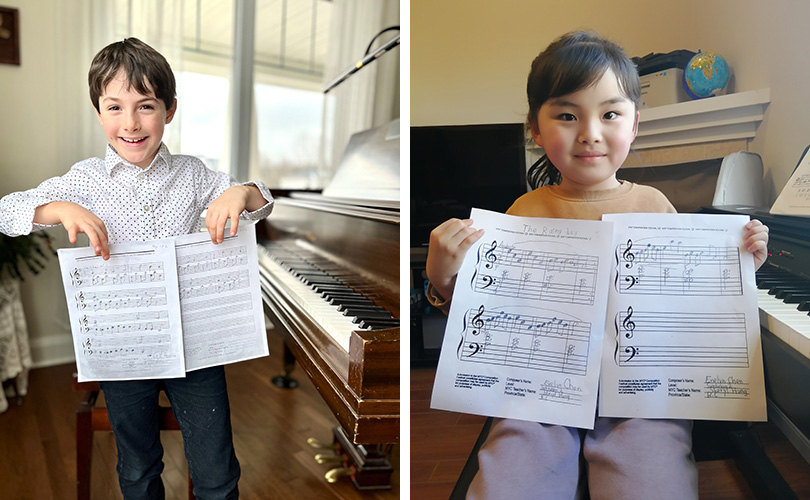 After two weeks of carefully reviewing over 2700 competitive compositions, 32 Regional Decisions and 1 Final Livestreamed International Decisions event, we are pleased to announce this year's winners!
CONGRATULATIONS TO ALL!
Sunshine 1
1st - Andrew Foong (Singapore) - Beautiful Rainbow
2nd - Jaxson Pavone-Adrian (ON) - The Blue Monster Truck
3rd - Wyatt Ziebert (AB) - Paper Robot
4th - Nathaniel Hua (OH) - Snowflake
Sunshine 2
1st - Hudson Schwenk (OH) - Ice Cream
2nd - Annika Olsson (AB) - Blue Sky
3rd - Jamie Loh (Singapore) - At the funfair
4th - Tristan Grégoire (ON) - Hovercraft
Sunbeams 1
1st - Natalie Kovacs (ON) - Lullaby
2nd - Tang Quynh Anh (Vietnam) - My Day Off
3rd - Cecelia Vanderjagt (AB) - Cotton Candy
4th - Diya Arun (OH) - Bunnies in my Backyard
Sunbeams 2
1st - Theo Zborovski-Borowoy (ON) - Hop Hop
2nd - Yeo En Qi Hannah (Singapore) - Rabbit Eats Carrot (again)
3rd - Nathaniel Varghese (AB) - Calgary Winter is Cold!
4th - Lydia Hu (OH) - Happy Dancing
Sunbeams 3
1st - Layla Kakish (AB) - Freeskate Fun!
2nd - Sabrina Evans (OH) - Daydream on Mars
3rd - Julia Trail (PEI) - Ocean Waves
4th- Fong Tuey Kuok (Malaysia) - Funtime Playing Basketball
Moonbeams 1
1st - Brier McCormick (ON) - Winter
2nd - Emma Bohlmann (BC) - Dolphins
3rd - Kettner Lefkowits (CA) - The Walk
Moonbeams 2
1st - Aaliya Jarvis (MB) - Butterfly Meadow
2nd - Beckham Carathers (TX) - Sun Rays
3rd - Skye Desjardins (ON) - Lazy Rain
4th - Vanessa Wee Xin Rui (Singapore) - The Blooming Flowers
Moonbeams 3
1st - Isaiah Lau Kai Herng (Singapore) - Gliding in the Air
2nd - Eric Penner (ON) - The Bad Dream
3rd - Arthur Seida (AB) - Cheerful March
4th - Josiah Lathrop (CA) - March of the Elephants
Click on the composition title to see each talented Composer's work in writing! And below you will find performances of all the First Place International Winners. Enjoy these incredible compositions as interpreted by performer and MYC teacher Tania Granata.
You can also see all of above compositions performed by visiting our Facebook Livestream recording from April 6, 2023.
1st Place Sunshine 1 - Beautiful Rainbow by Andrew Foong
1st Place Sunshine 2 - Ice Cream by Hudson Schwenk
1st Place Sunbeams 1 - Lullaby by Natalie Kovacs
1st Place Sunbeams 2 - Hop Hop by Theo Zborovski-Borowoy
1st Place Sunbeams 3 - Freeskate Fun by Layla Kakish
1st Place Moonbeams 1 - Winter by Brier McCormick
1st Place Moonbeams 2 - Butterfly Meadow by Aaliya Jarvis
1st Place Moonbeams 3 - Gliding in the Air by Isaiah Lau Kai Herng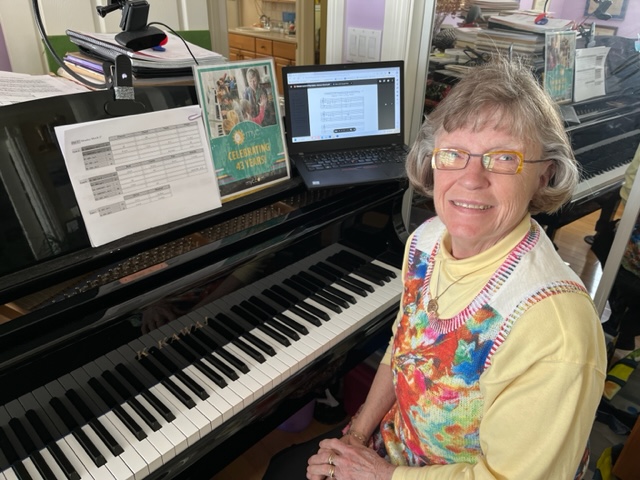 Founder of MYC, Frances Balodis, was present again this year as the Composition Festival Chair. In her role she would not only review several pieces, but also oversaw all of the Regional Decisions. "Reviewing Sunbeams I first check and Sunshine II – what awesome children these are. I can tell how hard they have worked wo make their notes…sometimes printing words. No matter how the composition sounds – they have figured out that there pencil marks will make it possible for someone to play their creation. That's an amazing communication."
MYC is especially grateful to all of the reviewers, who are all MYC teachers themselves (active or retired) and who are on the receiving end of so many students' hard work and creativity. Many remarked at the International Decisions how difficult it was to rank the songs. One of our talented reviewers, Dan Tremblay shares his perspective on his YouTube channel which can be seen below.
Composition Festival Art Contest Winner!
This year we received over 500 pieces of student artwork from children ages 3 and up, depicting what they love about their MYC classes! We saw lots of colour, Critters, pianos, music notation, and happy children throughout the artwork.
The winners were decided in an online vote which was open to the public for two weeks in February. Two of the winners will have their artwork featured on two of MYC's publications (the Student Activity Book Level 1 and Level 2) and one will be featured on the Composition Festival Sticker that every child receives after sending in their musical composition. Congratulations to Noah Racanelli from Ontario!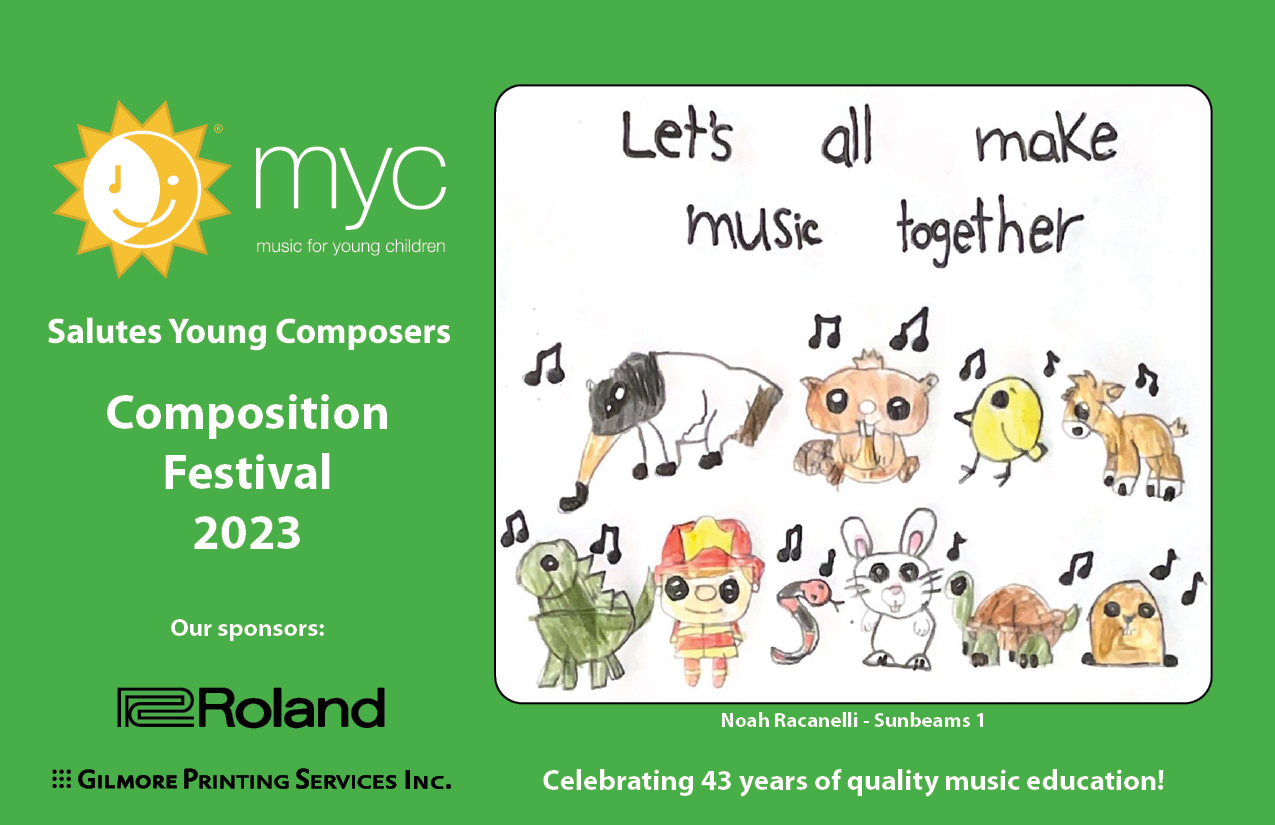 Finally, MYC wants to give a big Thank You to our Sponsors, Roland Canada and Gilmore Printing Services. Your support plays a key role in keeping this festival going, and we always enjoy working with you!


Is your child interested in music and composing?
Take a moment to discover our curriculum, then find a teacher near you! You never know - maybe one day they will be recognized in the Composition Festival!